The renaissance of the Lost Land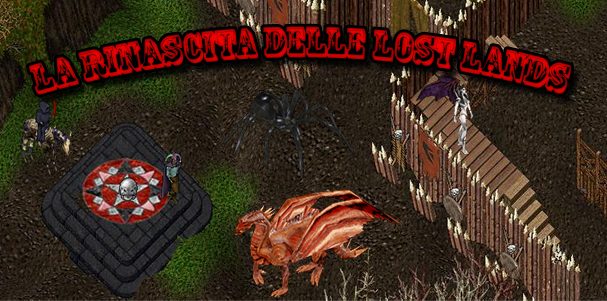 The summer has now arrived, the chilly winds blew on Lost Land disappeared. Small creatures repopulate the vast plains, many moving from the near Trinsic, passing through the caves of DeLucia. One day a traveler came near the small walls of Papua screaming: << The earth moves to the cemetery abandoned of DeLucia! >>. Now the village chief became alarmed and organized an expedition to the lighthouse to alert the cities of the old continent. The formation came up to the wooden bridge that leads the Desert arid lands. The silence fell over the group, the creaking of the bridge was insistent. The horses proceeded to step restless until, not far from the other side, there was the perception a faint sound, almost magical followed by many small steps muffled, almost imperceptible, which raised the hot sand of Desert. The sun was high before their eyes the shadow of a man stretched out; stood out a long cloak and a jester's hat!. Now the older they realized that their peace was over, recognizing in that shadow the piper. It was immediately night in the land of Desert. Only an adventurer returned to the small town tired and marked by a long battle, the village chief received end informing him that also in the distant Earth Sanctum had risen in the air a lot of dragons. Experts of the territory, however, have limited the problem because, Lost Land there are enough strength for a complete rebirth. These are the words of a bard who recited his story in the inn at Skara!

It communicates to the entire UOD community in day 26/06/2012 champ will be reactivated in the Lost Land. Will be available, beyond those already present at the time, four other spawn at random after each server restart* (you can recognize them by the idol presence in the center of the altar). In all the Champs present in the Lost Lands the drop off the champ artifacts is deactivated, made ​​exception for Forest Lord (Oaks) that is always active. It is up to you discover and finish them as quickly as possible or PvP we raid you!

* which is at 6:55 a.m.. If you are doing one of the four active random champ, you have the risk that it being turned off, so try to finish it on time.
Online Now
44 anonymous
Visits:
62837784